At Coregon we believe that our clients are an integral part of the building process. We actively listen to you, our client, to learn what your dreams are. Based here in the beautiful Austin, TX suburb of Georgetown, TX our custom home designers and luxury home builders will work with you to turn your ideas into reality. Through regular meetings with your Building Manager, you will know what is happening with your home every step of the way. We work with you to ensure you have the home you dream of at a price you can afford.
Grayson Smith – Co-Founder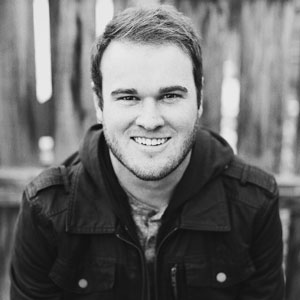 Grayson brings a wealth of experience to Coregon's acquisition and development within the local area. With over 10 years of real estate renovation and acquisition experience, Grayson has comprehensive insight into the direction Central Texas is headed. Grayson works tirelessly with not only city and county officials, but with members of the community, to find opportunities that will not only add to the architectural legacy of Williamson and surrounding counties but also celebrate the heritage and traditions that draw increasing numbers of new residents to the area.
Jim Kirpach – Co-Founder &
Client Relations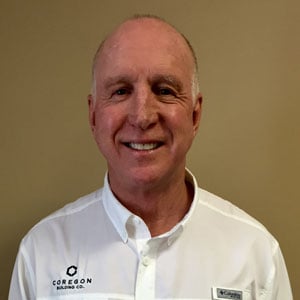 With over 30 years of experience creating custom affordable and custom designed  homes here inGeorgetown and throughout Central Texas, Jim's ability to actively listen to his clients' needs and translate them into the perfect home is the benchmark of everything we do. An innovative designer, Jim invites his clients to be active participants in the creation of their dreams. With his encyclopedic knowledge of construction and his rigorous attention to detail, Jim's homes and reputation set the standard for every home Coregon creates.
Justin Marshall – Lot & Design Consultant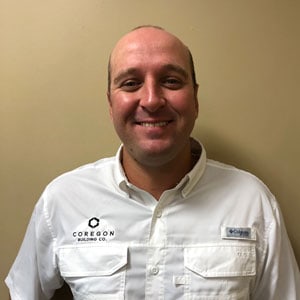 Justin is an entrepreneur who loves connecting with customers. As restaurateur and owner of a utility company, Justin's diverse background and his eye for identifying new ways of working and doing are instrumental to the Coregon organization. In his spare time, he enjoys getting out and about with friends and family to wakesurf at the lake.
Steve Brown – Project Manager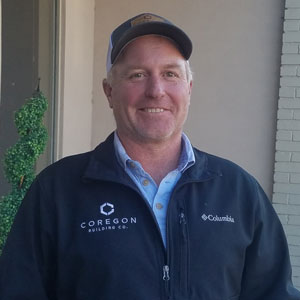 Steve and his family moved to Austin from Seattle, WA in 2018 in search for more sunshine. And found it! He enjoys spending time with his wife and kids in the great outdoors and, when he's not working, he's probably out biking, golfing, fishing or BBQ'ing.
Rob Wiprud – Project Manager
Rob has built over 100 custom-designed homes in Georgetown and the rest of in Central Texas over the past 4 years. Living in Austin for over a decade, he enjoys time spent with his young boys and wife at their home in Pflugerville. When he is not building homes, Rob enjoys playing sports, spending time with his kiddos playing legos and keeping his musical talent alive with the drums.
Dena Shelton – Office Manager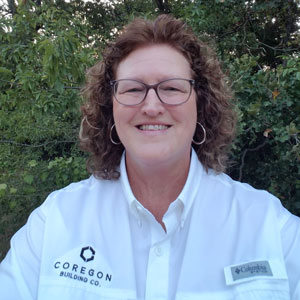 Dena brings her project management, operations, and finance expertise to our Coregon team. Dena is the backbone of our team and ensures that every detail is running smoothly and the right way. She is a prominent leader on the Coregon experience and helps to craft exceptional client moments throughout the construction journey.